Lighting for 6 Family Homes

6 family homes can be illuminated: several rooms, dawn, night, dusk. Additionally gas lamps as street lamps.
Order number:
ABLST_LIGHT_0020
Available:
✓
Control: analogue ✓, digital ✓, i.e. push buttons or DCC
Available as:
Add to basket →
L32, Lighting for 6 Family Homes
Decoder L32 with sequence Lighting for 6 Family Homes
Product Contents:

L32, with sequence, configured & tested

Order number:

L32+ABLST_LIGHT_0020

Price:

99.00 €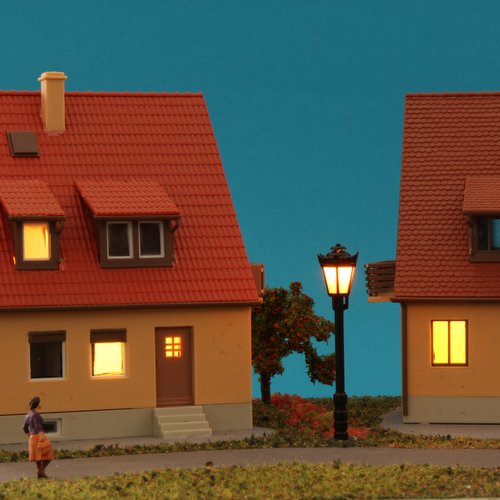 ---
Description
This Scenario focusses on lighting of 6 family homes including two street lamps. Each house simultes the following lights: entrance hall, bath, living room, TV set, sleeping room.
There are three time periods:
evening, changing automatically into
night, and
morning.
The two street lamps have different effects as street lamps.
This sequence can be activated and deactivated via
buttons,
switches or
DCC commands.
Sequences for the six houses are similair, but differ in detail. Example: In the evenening light in the hall starts, followed by bathroom and living room. The TV set flickers for some time, later the lamp in the living is turned off and the lamp in the sleeping room goes on…
The specific sequences for the six houses are described in detail in the User Manual (Gebrauchs­anleitung).
Each gas lamps shows typical switch on behaviour, shows changing gas pressure and one lamp even flickers as if it is defect.
---
Photos
---
Video
---
Explanation
Der Ablauf ist einfach anzuschließen: Versorgungsspannung, die LEDs mit den Vorwiderständen, dazu Taster oder Schalter.
Die Verbindung mit einer DCC-Zentrale ist optional.
Der Anschluss und die Berechnung der Vorwiderstände sind in der Gebrauchsanleitung beschrieben.
Der Ablauf ist fertig gestaltet und konfiguriert. Sie benötigen keinerlei Programmierkenntnisse.
Der Ablauf kann für Häuser aller Spurweiten und Maßstäbe eingesetzt werden, auch für andere Modellanlangen.
Gebrauchsanleitung